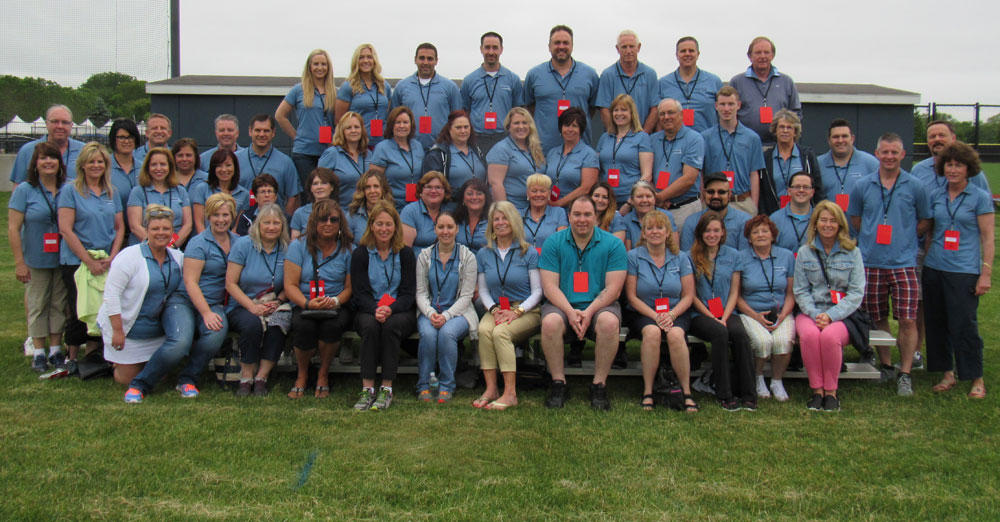 Special Olympics Rhode Island would not exist today if not for the time, energy and dedication of thousands of volunteers each year. Our volunteers  help children and adults with intellectual disabilities achieve their dreams. On behalf of the athletes we serve, thank you for your interest.
Who Can Become A Volunteer?
Our volunteer are students, seniors, business groups, professional individuals, civic organizations, families, amateur/professional athletes, and coaches to name a few. In other words, ANYONE CAN GET INVOLVED!

There is no experience required; all we ask is that volunteers under 16 be accompanied by an adult. However, some events and opportunities do have specific age and qualifications requirements and these will be identified accordingly.
How Do I Register?
The steps to register as a volunteers are below.  You may sign up Volunteer as an Ongoing Volunteer (Class A) to support a Local Program or Event (Class B) Volunteer.
Ongoing Volunteer (Class A Volunteer):
Class A volunteers have direct contact with athletes or serve in positions of authority, supervision and trust of athletes.  Fundraising volunteers may handle substantial amounts of cash or other assets for Special Olympics Rhode Island.
Roles Include:
Hear Coach and Assistant Coach
Local Team Volunteers
Unified Sports Partner
Fundraising Event
Marketing/Communications
Games Management Team
Photographer/Videographer
The time commitment for coaches, unified partners and local team volunteers is 1 – 3 hours/week for approximately 8 weeks depending upon the sport season.
The time commitment for Games Management, Medical, Fundraising and Marketing/Communications volunteers will vary depending upon the event.
Requirements: Vary depending upon specific volunteer position.  Volunteers must be at least 16 years old.
Steps to become an Ongoing (Class A Volunteer):
If you are 18 or older, complete a Class A Volunteer Application
If you are under 18, complete the Class A Volunteer Application and the Minor Reference Form.
All Class A Volunteers, ages 18 and older must complete the Protective Behaviors Training, General Orientation Training and General Orientation quiz.
Links for all the required steps to become an Ongoing Class A Volunteer are below.
To see Ongoing Class A Volunteer opportunities, click here.
Event Volunteers (Class B Volunteer):
Class B volunteers assist with activities that take place the day of a sporting or fundraising event.
Roles Include:
Escort athletes
Keep score
Timer
Announce events
Set-up and breakdown
No experience is needed.  A brief orientation is provided at events.
The time commitment can range from 4 – 8  hours depending on the specific event.
Requirements: Volunteers must be at least 16 years old.
To see upcoming event volunteer opportunities and registration information, click here.
If you have any other questions or would like additional information about Ongoing (Class A) or Event (Class B) volunteer opportunities, please contact Louise Miller, Director of GMS and Volunteers Management.