High School/ Middle School Unified Sports
UNIFIED CHAMPION SCHOOLS is a program to activate youth for Special Olympics and people with intellectual disabilities.  The focus of this project is high school based Unified Sports program, which is endorsed by the Rhode Island Interscholastic League and the RI Department of Education.  This program is partially funded by the U.S. Department of Education.
Currently the following unified sports are offered: Fall Season – Unified Volleyball and Spring Season – Unified Basketball.
Participating high schools include: Barrington, Bishop Hendricken, Burrillville, Central Falls, Chariho, Cranston East, Cranston West, Coventry, Cumberland, East Greenwich, East Providence, Exeter/West Greenwich, Hope, Johnston, Juanita Sanchez, LaSalle, Lincoln, Middletown, Mt. Hope, Mt. Pleasant, Narragansett, North Kingstown, North Providence, North Smithfield, Pilgrim, Ponaganset, Portsmouth, Rogers, Scituate, Smithfield, South Kingstown, Tiverton, Toll Gate, Tolman, West Warwick, Westerly and Woonsocket.
Participating middle schools include: Barrington, Birchwood, Calcutt, Cole, Curtis Corner, Davisville, Gallagher, Gaudet, Lawn, Lincoln, Martin, North Smithfield, Park View, Pier, Ponaganset, Portsmouth, Ricci, Riverside, Scituate, Thompson, Tiverton and Westerly.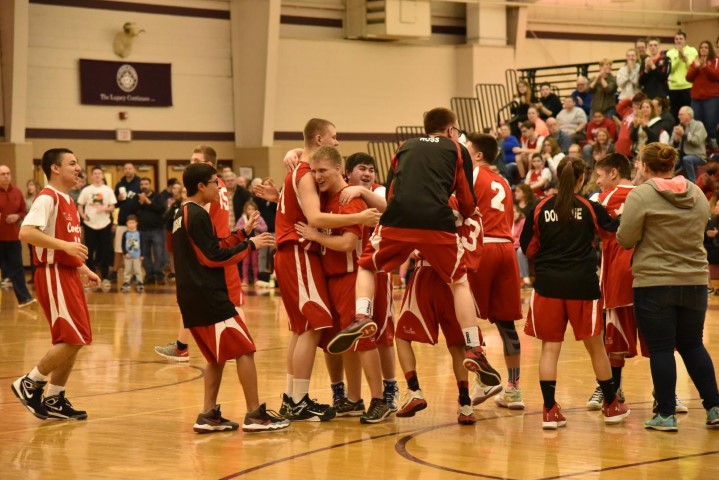 To learn more about the Unified Champion Schools program, contact Chris Hopkins.
If you are interested in becoming an athlete in our year-round program, click on the red button "Athlete Registration Information" for more information on how to register.
For information on upcoming Unified Champion Schools High School Basketball Games and High School Volleyball Games, please go to the Rhode Island Interscholastic League website at www.RIIL.org for a complete listing of games and updates on any date/time changes.