THE 2020 SPECIAL OLYMPICS RHODE ISLAND STATE SUMMER GAMES HAVE BEEN CANCELED DUE TO SPREAD OF COVID-19 (coronavirus).  FOR MORE INFORMATION REGARDING OUR 2020 VIRTUAL STATE SUMMER GAMES CLICK HERE.
After weeks of training and competing at Area Games (CANCELED), over 1,500 athletes from all over Rhode Island  will compete against their peers in athletics, bowling, cycling, motor activities training program, powerlifting, swimming and unified soccer at the 2020 State Summer Games on May 29, 30 & 31 (CANCELED).
The State Summer Games Opening Ceremony would have been held  on Friday, May 29th.    The Opening Ceremony typically includes the parade of athletes, the entrance of the Torch Run Final Leg with the Flame of Hope and the lighting of the Special Olympics Cauldron.
In addition to competitive events, Saturday will include Olympic Village and the Healthy Athletes Wellness Village.   Olympic Village is an area filled with fun and interactive events for athletes and their families to enjoy.  Healthy Athletes Wellness Village is located in Olympic village offering free vision, dental, hearing and fun fitness screenings along with massage therapy for athletes.
This year due to COVID-19 the 2020 Virtual State Summer Games will feature many of the things that you would typically see at the State Summer Games.  Be sure to watch for more details about this exciting event.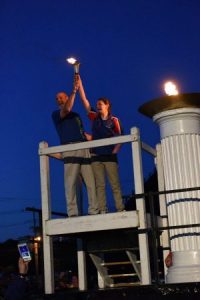 2019 State Summer Games Official Media Partners: