Hello everyone!
Hope you all are doing well and staying safe! I wanted to check in with the links to last week's SORI fitness videos
as well as provide some health tips for you.  Here are the links to last week's videos:
April 6 Fitness Video                    April 8 Fitness Video              April 10 Fitness Video
You are doing a great job sending in your workout selfies! Here are the SORI Home Workout Warriors for week 2!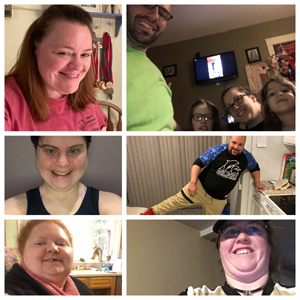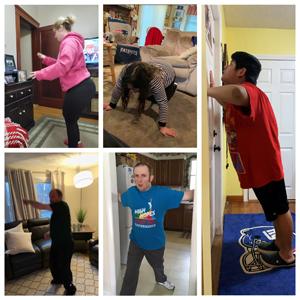 Be sure to send in your selfie to be featured next week!
Today, I want to give you some quick hydration tips!
Staying hydrated and drinking enough water is important for your health and can help your athletic performance.
According to the Special Olympics FIT 5 guide, your goal should be to drink 5 bottles of water every day!
Water is the healthiest drink choice and will work the best to keep you hydrated because our bodies are made up of mostly water.
When you don't drink enough water, your body does not work as well and you will not be able to perform at your best.
So keep drinking throughout the day, even if you aren't thirsty!
Always carry a water bottle with you and help the environment by using a refillable bottle!
To send in your workout selfies or if you have any questions, please contact me at stephanie@specialolympicsri.org.
Don't forget to join me on Facebook Live every Monday, Wednesday and Friday at 6pm.
Great job to everyone and I will talk to you all again soon!
In Health,
Stephanie