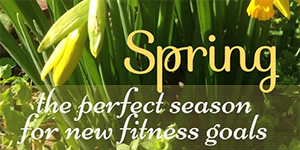 Happy Spring, Everyone!
Warmer weather is finally here, and our Spring Special Olympics sports are starting up again. This is exciting news!
Due to the pandemic a lot of us have not gotten together to play sports or exercise in a long time. We need to remember to take it slow as we all get back into the swing of things.
First, be patient with yourself! You may feel more tired or sore than usual after your practices.
This is okay and it will take a bit of time to get used to physical activity again. You will get
stronger and more fit each time you get out there so don't give up!
Second, work up gradually. Remember that slow and steady wins the race! Set little goals to
work yourself up to 100 percent. Start at 50%, then once that feels good move up to 75% then 100.
For example, this might mean setting a goal to exercise for 5 minutes without taking a break.
Then work up to 10 minutes, 20 minutes, etc.
As you get stronger you will be able to exercise for longer periods of time without breaks, do more
reps of an exercise such as pushups or sit-ups, use more weight or resistance for exercises involving weights.
All these things mean you are growing your fitness which will help you perform better in both your sports
and in your everyday life. Regular exercise is important to living a healthy lifestyle.
The best way to improve your fitness for Spring sports is to just go outside and be active whenever you can!
Enjoy the fresh air and get your body moving! Even if it is raining you can do a workout indoors on cardio
equipment or you can watch any of our recorded fitness workouts from the winter or spring.
Don't forget we are still offering virtual fitness on Zoom every Monday and Thursday evening at 6:30!
We would love for your to join us!  Click here to register for the virtual fitness classes. 
See you out there!
In health,
Steph