It's a Wonderful Life!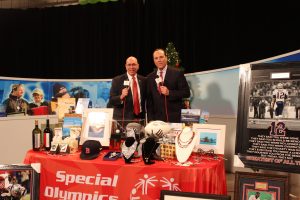 I've been lucky enough to be involved with the Special Olympics Rhode Island Holiday Auction for over 14 years.  For a while I was an "on-camera personality" which came with its own hazards. Like the time the entire live broadcast system went down due to a storm in New Orleans and we were replaced with "It's a Wonderful Life."  
Well, it has been a wonderful life!  Our business partners and friends in the community have been wonderful in providing us with great auction items year after year.  Our bidders have become friends – we know exactly who's going to bid on the "chef-supplied dinner in your home" every year. (Still waiting for my invitation to dine…)
Bidding for Good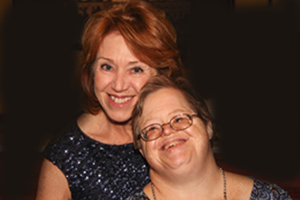 Bidding for Good, an online charity fundraising tool, has been a great step forward for us, allowing us to reach across the US to new bidders.  The process is easier for everyone and no one has to wear a tuxedo on live TV!  And the money raised through the generosity of so many people, goes directly to the 3,500 Special Olympics athletes of Rhode Island.  Eunice Shriver set the target for us back in 1968 that no athlete would ever have to pay to participate in Special Olympics.  Rhode Island has lived up to that standard and proceeds from the auction have contributed to making it possible.  
Next year will be the 50th Anniversary of the first Special Olympics games in Chicago's Soldier Field.  Special Olympics has grown from that hopeful and courageous beginning to being a force for inclusion, pride, achievement, good health and friendship in over 160 countries and over 4 million athletes.
My sister, Mary, has been one of those athletes for 42 years. So every donation to the auction and every purchase made by our friends has made her life richer.  And mine.  And our family's.  If you want to see pure joy and pride, come join us at one of our many events held throughout the year.
Accepting Donations
In order to continue to support more than 1,600 sports training and athletic competition events for 3,500 children and adults with intellectual disabilities, we invite you to help support our Annual Holiday Auction with your tax-deductible donation. 
We are currently in the process of collecting items such as:

overnight stays at hotels (Providence, New York, Baltimore, Newport, etc.)

tickets to sporting events

concert tickets

restaurant gift certificates

gift baskets

liquor baskets

vacation home/timeshare rentals

sports memorabilia
Business and Corporate Donations
As a corporate/business donor of your services or products, you'll not only be helping more than 3,500 athletes, but you  will also have the opportunity to showcase your company/business to a potential audience of over 900,000 individuals through our marketing efforts.  What services or products does your business offer that would make a fantastic donation item?
spa sessions

massage therapy

cleaning services

dry cleaning

accounting

marketing

writing

business coaching

nutrition and wellness
The Holiday Auction will begin on Sunday, December 3rd at 9:00am and end on Sunday, December 10th at 10pm on www.biddingforgood.com/specialolympicsri .
What an incredible opportunity to do all your  holiday shopping from the comfort of your home and help support so many wonderful people accomplish their dreams.
To donate an item or certificate for the 2017 Holiday Auction, please contact Gerri Walter at (401) 349-4900, ext. 316 or email.