Help Special Olympics Rhode Island Celebrate 50 Years of Changing Lives!
On July 20, 1968, Eunice Kennedy Shriver ushered in a new era for people with intellectual disabilities, when — with 1,000 athletes from three countries — she opened the very first Special Olympics International Games at Soldier Field in Chicago.
In 2018, Special Olympics will celebrate its 50th Anniversary of changing the lives of people with intellectual disabilities. Since those first Games in 1968, Special Olympics has grown to a global movement with more than 5 million athletes in more than 180 countries participating. And while sports will always be at the heart of Special Olympics, it is just a small part of what we now do: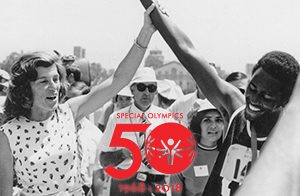 Special Olympics Healthy Athletes Program has grown into the largest worldwide provider of health services for people with intellectual disabilities. In Rhode Island, we provide various Health Screenings at our State Summer Games and our yearly MedFest.
Special Olympics Young Athletes Program now reaches children as young as 2-years-old, providing social and motor skills development and encourages parents and siblings to get involved in the activities.
Unified Champion Schools is building stronger, more inclusive school communities and fighting the bullying that is prevalent against our population. In Rhode Island, there are 38 High Schools, 34 Middle Schools and 19 Elementary Schools involved in the Unified Champion Schools Program.
Rhode Island currently has over 3,500 athletes involved in more than 1,600 training and athletic competition opportunities in 21 different sports.
That's a lot to celebrate, and we want you to share in our excitement.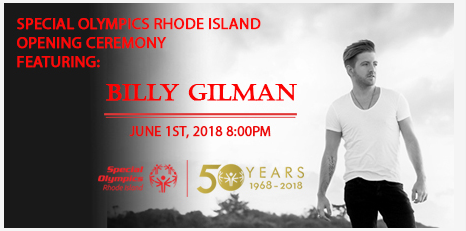 There will be plenty of opportunities to get involved.
The 50th Anniversary will be a focus of all of our events in 2018, but especially our State Summer Games, June 1-3, 2018 at the University of Rhode Island. Opening Ceremonies will feature a one hour concert by recording artist, Billy Gilman. Click here to purchase tickets.
Unified Athletic Event, Fall, 2018
50th Anniversary Gala on October 13th, 2018 at Rhodes on the Pawtuxet.
Read about the various Sponsorship Opportunities for the upcoming events to help us celebrate our 50th Anniversary.
July will be a very busy month, as we send 22 athletes, 6 unified partners and 7 coaches to the 2018 Special Olympics USA Games, July 1-6, in Seattle, Washington. The USA Games will be followed by the Global Special Olympics 50th Anniversary Celebration, July 17-21, in the original home of Special Olympics – Chicago, Illinois. The Global Celebration will include a Unified Soccer Cup from July 17-20, a 50th Anniversary Torch Run and the lighting of an Eternal Flame on the plaza between the Field Museum of Natural History and Soldier Field on July 20, and will close with a Global Day of Inclusion on July 21.
For more information about Special Olympics Rhode Island's events for the 50th Anniversary Celebration, contact Dennis DeJesus at (401) 349-4900 or dennis@specialolympicsri.org.