Special Olympics Rhode Island Celebrated 50 Years of Changing Lives!
On July 20, 1968, Eunice Kennedy Shriver ushered in a new era for people with intellectual disabilities, when — with 1,000 athletes from three countries — she opened the very first Special Olympics International Games at Soldier Field in Chicago.
In 2018, Special Olympics will celebrated its 50th Anniversary of changing the lives of people with intellectual disabilities. Since those first Games in 1968, Special Olympics has grown to a global movement with more than 5 million athletes in more than 180 countries participating. And while sports will always be at the heart of Special Olympics, it is just a small part of what we now do: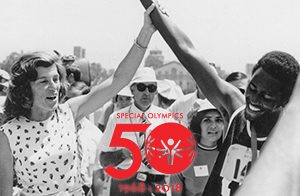 Special Olympics Healthy Athletes Program has grown into the largest worldwide provider of health services for people with intellectual disabilities. In Rhode Island, we provide various Health Screenings at our State Summer Games and our yearly MedFest.
Special Olympics Young Athletes Program now reaches children as young as 2-years-old, providing social and motor skills development and encourages parents and siblings to get involved in the activities.
Unified Champion Schools is building stronger, more inclusive school communities and fighting the bullying that is prevalent against our population. In Rhode Island, there are 39 High Schools, 37 Middle Schools, 41 Elementary Schools and 2 Pre-Schools involved in the Unified Champion Schools Program.
Rhode Island currently has over 4,000 athletes involved in more than 1,600 training and athletic competition opportunities in 21 different sports.
For more information about Special Olympics Rhode Island upcoming events and sponsorship opportunities, please contact Dennis DeJesus at (401) 349-4900 or dennis@specialolympicsri.org.